Throwback!! Rosenberger and Morgan reflect on year in USG April 12, 2004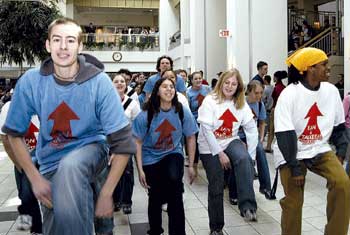 Rosenberger and Morgan reflect on year in USG
Natalie Hrubos Apr 12, 2004
After devoting a full year of their lives to leading the Undergraduate Student Government (USG) through both high and low points, USG President Ian Rosenberger and Vice President Takkeem Morgan look back on their experiences with gratification, regret and hope for the future leaders of the organization.
The team set out last spring with hopes of publicizing teacher evaluations, reinstating University Health Services class-excuse forms, extending library hours and increasing lighting on and off campus.
Rosenberger said he wishes he and Morgan could have made more progress on their platform goals, but he feels as though achieving those goals was only a small part of his job.
"Those are the things you promised, those are the projects you're going to work on, but to represent the students is not about the SRTEs," Rosenberger said. "Those are the things you work on when you have the time to push for it, but a lot of my time this year was taken up with reacting to everyday student problems."
Morgan said he thinks he and Rosenberger were most successful with their lighting initiative.
State College Borough Council agreed to increase lighting in problematic areas downtown — a four-year project that will cost more than $1 million. Also, poor lighting on campus has been fixed, and several new lights have been added.
The lighting initiative came at a time when the State College area had an increase in sexual assaults and more demand for safety downtown and on campus.